Daily Archives:
November 9, 2015
zoom
Windmill 10k – Sunday 8th November

The weather didn't deter over seven hundred runners turning out for the Windmill 10k on Sunday and among them three Blackburn Harriers – Conrad McKee, Mick Leigh and Tom McKee.
Full Results HERE
It was hardly PB weather so it was clear from his time that Conrad had a great day, winning the Race in a new PB time of 36.05 which was 20 seconds better than his previous best and a good win from Nick Gaskell in 2nd place.  Mick came in 12th with a time of 39.01 and U17 Tom in his first ever 10k Race finished 17th in 40.23.
♦
Hardly the best of conditions for the latest Race in the Podium 5k series held in Barrowford at the Steven Burke Cycle Track but there were still some really good times and racing with the first two well under 15 minutes and the first six all sub 15.30.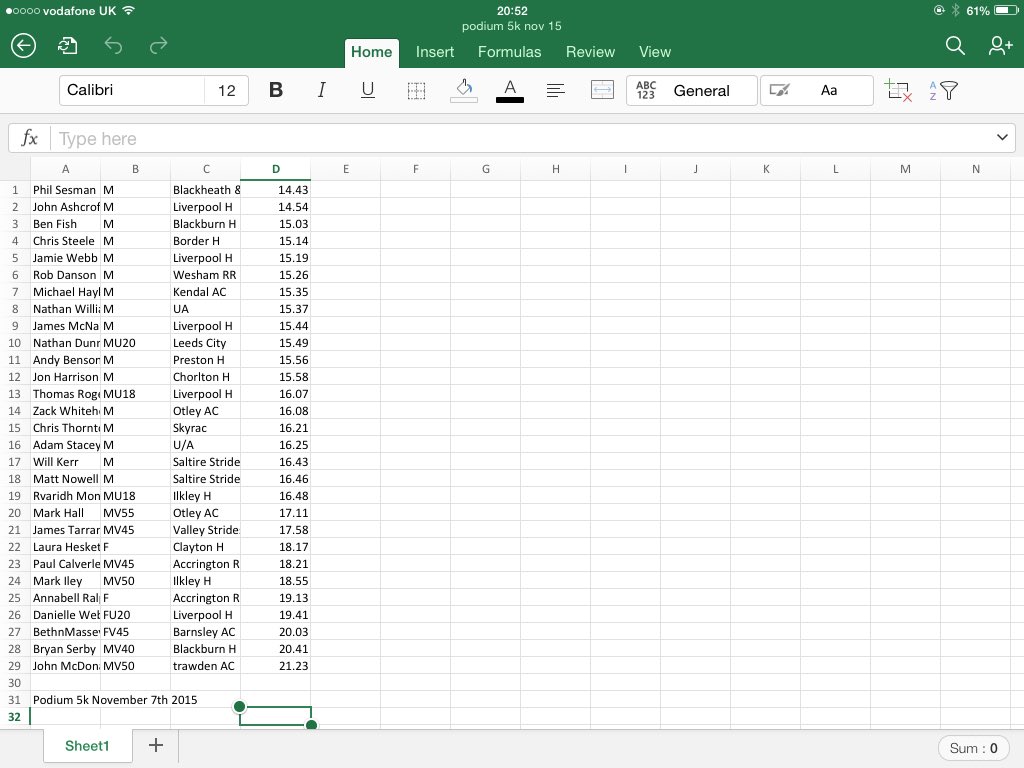 Just two Blackburn Harriers competing on the night Ben Fish and Bryan Searby. Ben came in 3rd and said that he was "fairly happy with it. I had hoped to dip 15 minutes, as I haven't managed it this year. In better conditions I think it would have been possible". Bryan finished 28th in 20.41 which was a PB for him and he was delighted with it.

♦
zoom
The Harriers got off to a solid start at the first Lancashire Sportshall League fixture of the season in Blackpool at the weekend!
The highlight of the day was Hannah Cookson being awarded U15 Athlete of the Match, after winning both the 2 & 4 lap races and finishing 3rd in Speed Bounce & 5th in Long Jump. Overall Blackburn were 4th team.
The following athletes achieved top 6 finishes, scoring points for their team:-
Ben Boocock – 2nd Speed Bounce, 6th Long Jump & 1 lap
Thomas Booth – 2nd Chest Push
Thomas Flynn – 4th Target Throw, 6th= Speed Bounce
Eleanor Allsop – 2nd 3 laps, 3rd 1 lap, 4th Speed Bounce
Esme Booth – 6th Chest Push
Charlotte Clapham – 4th= Javelin
Kate Cookson – 1st Speed Bounce, 6th Triple Jump
Leah Hoole – 5th Triple Jump, 6th Vertical Jump
Caroline Woodworth – 4th= Chest Push
Myah Booth – 5th LJ &TJ, 6th Shot Putt
Christie Sturgess – 3rd= Speed Bounce
Eleesha Charnley – 2nd Long Jump, 3rd Vertical Jump, 4th 4 & 6 laps
Videos
https://www.facebook.com/sabrina.dewhurst/videos/10206879112809127/
https://www.facebook.com/sabrina.dewhurst/videos/10206879092528620/
https://www.facebook.com/sabrina.dewhurst/videos/10206879089808552/
Other athletes who set new personal bests included:-
Jadyn Armstrong – Speed Bounce, 1 & 3 laps
Molly Nicholls – Long Jump, Vertical Jump, 1 & 3 laps – well done new PBs in all 4 events!
Olivia Blow – 2 laps
Emily Laycock – 2 laps
A final mention to Codie Dewhurst who made his Sportshall debut and thanks to John, Ben, Sam & Nikki who organised the long jump event.
(Please note that the next fixture is on Sunday 13th December, not the usual date in January.)
♦